PhotonHub Online Training
Overview: Photonhub provides two types of online training: Introductory and Specialised. PhotonHub's online training courses consist of an exciting 2.5 hour-long programme. While the monthly introductory courses provide a comprehensive overview of photonics technologies, the specialised courses focus on photonic applications and how photonics can benefit your business. The online training courses also present the wide range of technical and business support measures provided by PhotonHub Europe and other photonic initiatives in the European ecosystem. Online training also provides an open forum for attendees to ask specific questions to experts in the field of photonic technologies and a wide range of application areas.
Target Audience: PhotonHub's online training courses target new entrants to the photonics sector interested in understanding how these technologies can be innovatively applied to their industries. The courses are also an ideal preparation activity for those who wish to participate in further onsite hands-on training through one of PhotonHub's Demo and Experience Centres located across Europe – see below for details about the training courses offered at the Demo and Experience Centres.
When: Online training courses are provided by PhotonHub partners and run on a regular basis for small groups. Please notice that each of the online training programs follow a similar agenda, but with a focus on two or three application areas. See below to select a training date and topic that best suits your interests and schedule.
Cost: Online training courses are free-of-charge but require attendees to register in advance of attending their selected course.
How to Register: below you will find a registration form where you can select the dates and topics that best suit your organisation.
Further Information: trainingcentres@photonhub.eu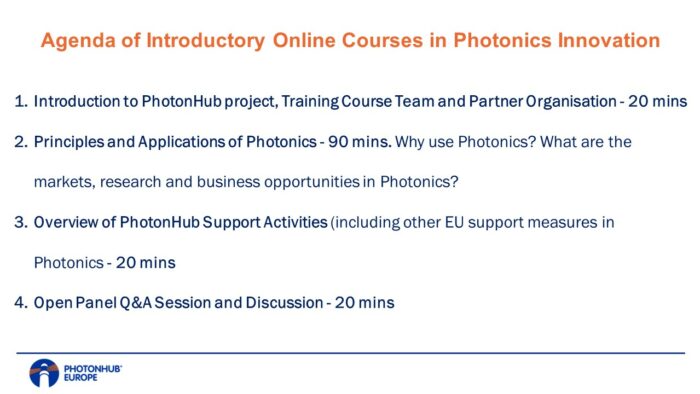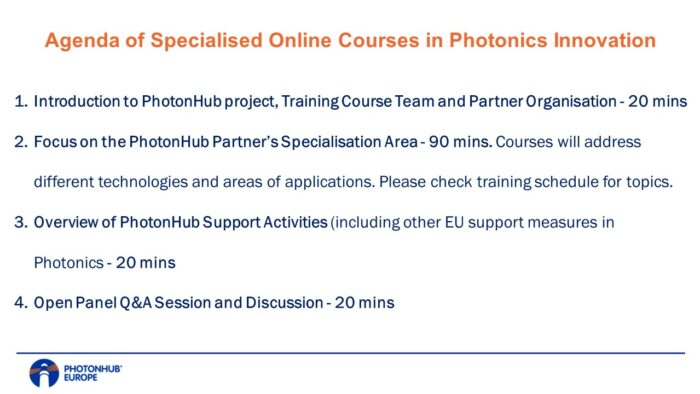 Introduction to photonics: Introduction to photonics: sustainable photonics to photonics for sustainability
CNRS-L2n
05 / 12 / 2023
(14:00-16:30 CET)
Ultrafast Laser Surface Functionalization: Overview of Bio-applications and Route to Industrialization
CNRS-LabHC
06 / 12 / 2023
(10:30 – 12:30 CET)
Infrared Digital Holography applications: Vision through smoke and flames and remote monitoring of buildings
CNR-INO
12 / 12 / 2023
(10:00 – 12:00 CET)
Use of ultraviolet radiation for the suppression of airborne viral disease spread
CNR-INO
12 / 12 / 2023
(14:00 – 16:00 CET)
Fabrication of sub wavelength gratings using Laser Interference Lithography
CNRS-LabHC
13 / 12 / 2023
(12:00 – 14:00 CET)
Introductory Course in Photonics Innovation
UGENT
19 / 12 / 2023
(10:30 – 12:30 CET)
Terahertz Photonics: principles and applications
CNR-IFN
09 / 01 / 2024
(10:30 – 12:30 CET)
Introduction to photonics: applications to large-scale nanostructuration
CNRS-L2n
22 / 01 / 2024
(14:00 – 16:30 CET)
New trends in single-molecule bioanalytical detection
CNR-IFN
29 / 01 / 2024
(10:30 – 12:30 CET)
See the complete list of available trainings
Registration form